After arriving last Saturday at the Dreams ressort, we enjoyed the first few days lying at the pool and just doing nothing. Coming from the cold temperatures of Saskatchewan (it was -21° when we went to the airport), the diference of 50° hit us hard and we didn't have a lot of energy for doing trips the first few days. So we just relaxed, enjoyed the heat and had a few drinks at the hotel.
After four days doing nothing, we decided that it's time to do something and started searching online for a possibilty for scuba diving. We found an article on gr8traveltips.com recommending Scuba Diving Anfibios Huatulco. We contacted Alex and were lucky to get a reservation for the next day.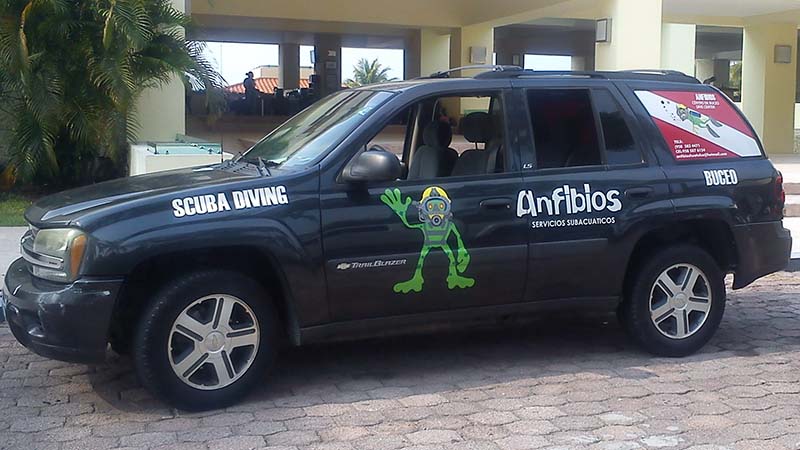 At 9am we were picked up at the hotel. We immediately connected to Alex, he is a very gentle and friendly guy. We read his ratings on Tripadvisor the evening before, and they seemed to be confirmed from the first moment on. So we drove to the port, where his son Efren was already waiting with the dive boat at the beach, everthing ready to go. We just had to hop in and sit down.
First dive at the Violin beach
We told Alex that we didn't dive for two years, and that we would be happy to do an easy dive to start with. He smiled at us and said that conditions are very calm and the visibility would be good. And that we would do the first dive at the Violin beach, where we could expect to see a lot of different rays.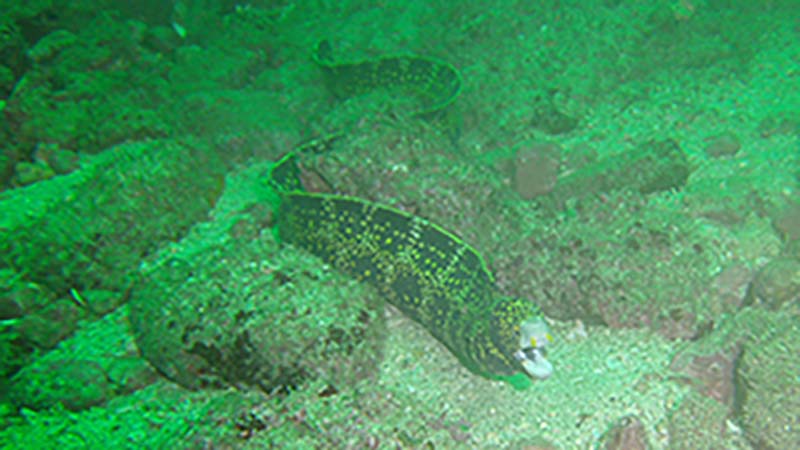 The dive was absolutely beautiful. We saw a lot of different fishes and a lot of rays as Alex promised. We also saw a beautiful Moray Eel. Diving time was 53 minutes, and we went only about 40 feet deep.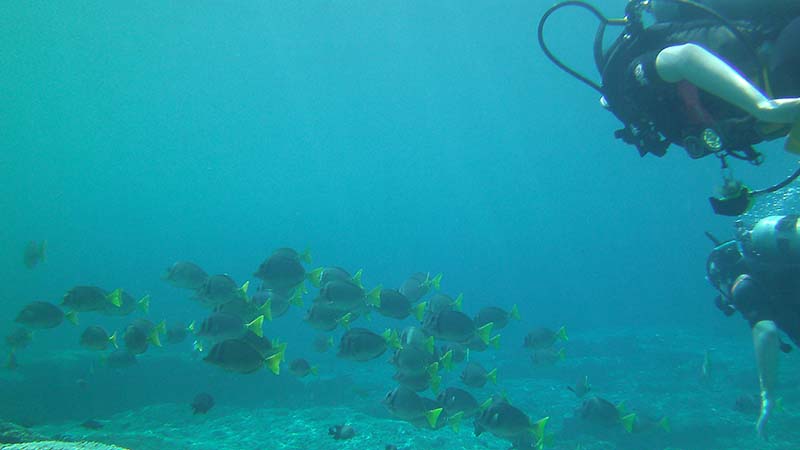 Back on the boat we got some fruit and water that Alex brought for us. While enjoying it we asked Alex if we can spend a few minutes at the Violin beach, and he agreed without any objections. Efren brought us there by boat, and we could swim a while and take a few pictures of this wonderful little beach.
Second dive in front of Cacalutta
For the second dive we headed to Caclutta, another, much bigger virgin beach in the area. In front of it there is a small rocky island. At the ocean side of it we prepared for the second dive. Alex told us that we could go up to 85 ft depp here if we want to, and as we both are PADI certified AOW divers and felt very good and secure on the first dive, we wanted to do that. And we where lucky one more time!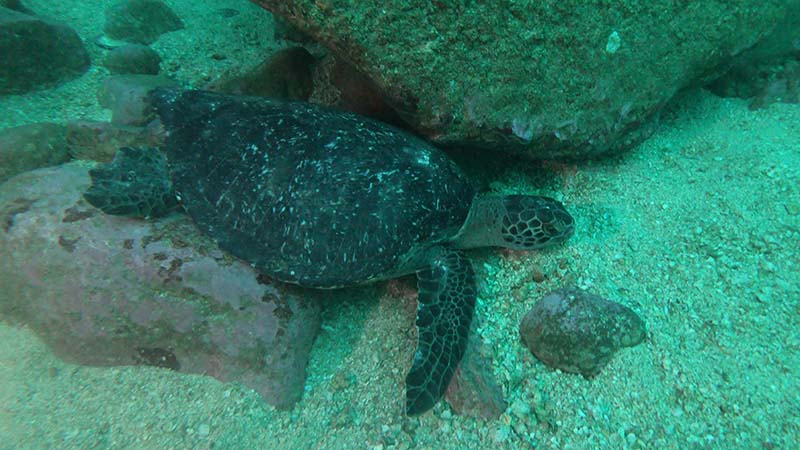 Right at the beginning of our dive we saw a big sea turtle on the ground. We stayed there watching it for quite some time, as the turtle didn't seem to be worried about us at all. This was an absolutely amazing moment, we never could see a sea turtle on a dive before. Also the rest of the dive was great. There were big swarms of smaller fishes (sorry, no idea what they are called), and a majestic eagle ray!
What a scuba diving experience in Huatulco!
After arriving at the port again, Alex also brought us back to our hotel. He asked for our email adresses to send us a link where we could access the photos he took, in fact a few of the ones you see here are from him. We told him that we absolutely want to do another day or two with him, and we agrred that we would contact him again.
This diving experience was phenomenal for both of us. We did a few dives before, in a few different locations, but Huatulco beats them all. Alex is by far the best dive guide we ever had. He is very calm and was able to make us feel secure from the first minute, although we didn't dive in 2 years before.
Also his son Efren is a great person. He is the captain of the boat and helped us with all our diving gear. We really didn't have to do anything exccept diving and enjoying! For everyone who is looking for scuba diving in Huatulco, we can highly recommend Anfibios!